Industrial Commission
What does Industrial Commission mean?
The industrial commission is the agency responsible for monitoring and administering workers' compensation activities, including conducting hearings to review the validity of workers' compensation claim appeals. The industrial commission also reviews the businesses which provide workers' compensation insurance and validate that employers have purchased proper workers' compensation coverage for their employees.
More specifically, the Industrial Commission in each state will conduct hearings, provide claims resolutions, review claims for disputes involving an employer's violation of safety standards, and determine if an injured worker should receive permanent and total disability benefits for a work injury.
The Industrial Commission and Workers' Compensation Hearings
Workers who have been denied workers' compensation can appeal their work comp claim. The Industrial Commission in each state will than provide an adjudication process in which claimants may have their claims expeditiously and impartially reviewed and resolved.
State laws vary, but generally the state's claims review process will involve several levels. For example, in Ohio there is the district, staff, and commission level. At the Commission level the claims are reviewed by a government appointed board which is confirmed by the state Senate.
In each state the Industrial Commission or the equivalent agency was established to allow for a more fair and independent adjudication for workers' compensation claims.
General claims process and the Industrial Commission
If a worker is injured performing their normal job duties they should notify their employer by filing a valid claim (the process varies by state). Employers also have the responsibility to report the injury.
The notice of the injury is sent to the Industrial Commission. The employer's workers' compensation insurance carrier is also notified of the work comp claim. State law dictates the number of days the insurance company has to accept or deny the injured worker's claim.
Next, the injured worker will also receive information about their work comp case and the insurance company. If the claim is accepted, payment to the worker will begin immediately. If the claim is denied, the injured worker can file a Request for Hearing and send it to the Industrial Commission.
Review the website for the Industrial Commission in your state for more information about the hearing process, or talk to a work comp lawyer.
Related Pages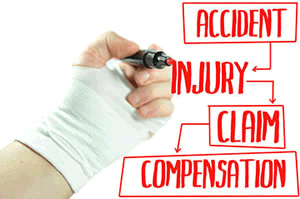 Category: Workers Compensation
---
---
Workers Compensation Attorneys near Ashburn VA
---
Term of the Day
A voluntary departure allows an individual, who is facing deportation, to voluntarily leave the country within a specified time period to avoid a final order for removal.
Category: Immigration
---