ORACLE LAW FIRM, APC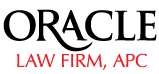 If you have sustained a work-related injury or illness, contact us immediately. We are committed to protecting the rights of injured workers. We assist clients with workers' compensation claims and appeals. California Workers' compensation provides wage benefits and medical benefits to people who have suffered a work related injury or illness.
Injured workers may receive benefits in a variety of circumstances:
Work-related accidents
Cumulative Trauma Injuries ( repetitive injuries or ones that gradually occur over time)
Aggravation of a pre-existing condition
Occupational illness or disease
Injuries from performance of work duties (e.g., injured back, knee, wrist or shoulder)
MAXIMUM RECOVERY
We are devoted to your recovery. We vigorously pursue the maximum compensation on behalf of accident victims for:
Wages
Medical reimbursement
Rehabilitation or disability benefits
Stop employer retaliations
TRUSTED ADVISORS
Workers' compensation is a no-fault insurance-based system. That means workers are not required to prove their employer was negligent in order to receive benefits. Workers only need to show that they were injured at work. However, the process of filing claims and obtaining benefits can be complex for individuals who do not have adequate legal representation. If you have been injured, don't assume your employer or their insurance company has your best interests at heart. You need an attorney who will protect your rights and aggressively pursue the full wage and medical benefits you deserve under the law. Your employer's insurance company has one simple goal - to limit the benefits paid to you. The insurance company works for the employer and not the employee.
They may delay your benefits and make it difficult for you to be made whole again. They may not provide you proper treatment or health care services that you need. It is essential that you have representation that fights for your best interest.
We help our clients seek treatment with unbiased healthcare providers. We will help you navigate through California's complex workers' compensation legal maze and ensure you receive the benefits and compensation to which you are entitled.
---
---
ORACLE LAW FIRM, APC Profiles


Other Lawyers in Costa Mesa California