The DeVries Law Firm, P.A.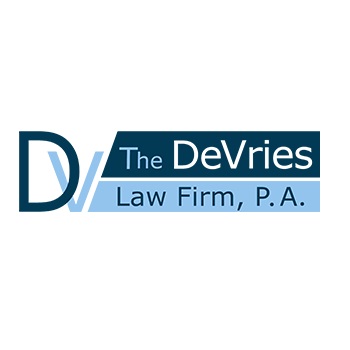 With so many options available at your fingertips in this day and age, it can be challenging to narrow down the team of professionals that can best serve your legal needs. When it comes to uncompromising dedication and expert knowledge in various practice areas, our team at The DeVries Law Firm, P.A., is comprised of professionals and attorneys with impressive credentials and experience in a variety of practice areas. As a result, our clients gain the advantage of having a diverse range of legal services available within reach.
With decades of combined experience, our attorneys represent clients in the following matters:
Estate Planning
Wills and Trusts
Guardianship
Probate
Real Estate Matters
Foreclosure
Eviction
Personal Injury
Bankruptcy
Debt Defense
Creditor Defense
Debt Harassment
Traffic Citations
Divorce
Child Custody
Child Support
Restraining Orders
Injunctions
Adoptions
With a wide range of practice areas available, our clients at The DeVries Law Firm, P.A., do not have to go far to obtain an array of quality legal services. We are a one-stop firm at your disposal. With an office in Jacksonville, FL, The DeVries Law Firm, P.A., serves clients across Florida and throughout the United States with exceptional commitment and representation.
---
Contact Information
---
The DeVries Law Firm, P.A.
644 Cesery Blvd
Suite 250
Jacksonville
,
FL
32211
Phone:
904-348-0030
Website:
devrieslegal.com
---
Other Lawyers in Jacksonville Florida