Contractor has not completed work even after they were paid. What can I do?
Recently on our legal forum a user asked, "We hired a contractor to build a deck. They started the project but stopped half way through. We have paid them half of the money they requested for the job. Now they refuse to return and finish the job. What steps can we take to enforce the contract?"
Why won't a contractor finish the job?
One of the most common complaints voiced about contractors is their unpredictability. They say they will show up at a certain day and time but fail to show, they say they will call and don't, they start projects and don't finish. Regardless of the reason, and there might be some legitimate reasons they cannot appear at a specific date and time, there is no reason that they cannot make a quick phone call to update you on their availability.
While certain common issues can be avoided by doing due diligence before hiring a contractor, including getting a contract in writing, getting recommendations before hiring a contractor, and not paying the contractor all of the money up front, sometimes homeowners simply get burned by unscrupulous contractors.
Now, you mentioned that you have paid the contractor half the money and they have done half the work. The good news is you have received everything you have paid for so far, including the labor and materials. The bad news is your job is still not done. With this in mind, you have two options:
Options after a contractor fails to complete work:
Fight to get the contractor to meet their contractual obligations.
The contractor signed a legal document agreeing to provide a service to you. Assuming you have a written contract (and even if you just have an oral contract) you could probably take the contractor to small claims court and win a claim against them.
While this might seem satisfying to prove your point and "win," this benefit should be weighed against the hassle and effort it will take. In fact, many legal experts would suggest this course of action is best pursued only if the contractor has been paid for services not completed or has damaged your home and caused substantial financial loss.
If you do decide to take the contractor to small claims court, however, it's important to note that there will be a limit to the amount which can be recovered. You will also need to be ready to provide evidence to the court (i.e. the contract, photographs, invoices, text messages, etc.) to win your case. Finally, you will need to file your case before the statute of limitations for your state expires.
Keep in mind, if the damages requested exceed the amounts of recovery allowed for the small claims court you will have to file your case in county court. This can cost more money, take more time, and necessitate the need to hire a lawyer.
Cut your losses and find another contractor.
The second option is to simply find another contractor. You have spent hours phoning, mailing, and emailing a contractor who is unresponsive. While you might legally be able to force them back on the job, you also might simply find yourself in this same position a few months down the road with no guarantee that the worked performed will be good, especially if the contractor is irritated about being sued.
If you do decide to get another contractor to complete the job, however, be sure you take the right steps to hire a competent contractor. Get everything in writing BEFORE the contractor starts the job, get references from the contractor's past clients, and do not pay for the work before it is completed.
Protecting other consumers from incompetent contractors
Like all professions, there are good contractors and there are bad contractors. Even if you decide not to file a claim against a contractor it still might be a good idea to warn others about your experiences with an unscrupulous contractor. Reporting your bad experiences with a contractor to the Better Business Bureau, Craigslist, Angie's List or the licensing board in your state may provide protection to other consumers in the future.
Related Pages
---
Latest Question
Talk to the legal department or your employer if you are threatened with a lawsuit.
Category: Malpractice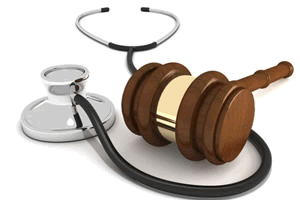 ---