How much does it cost to file Chapter 7 bankruptcy?
If you are considering filing Chapter 7 bankruptcy one of your main concerns may be the costs of filing. Filing bankruptcy can be expensive. Not only will you need to pay for credit and financial counseling and filing a petition with the bankruptcy court, you may want to consider hiring a bankruptcy lawyer.
Filing fees for Chapter 7 bankruptcy
The first costs for filing Chapter 7 bankruptcy will be the filing fee for the Chapter 7 bankruptcy petition. At this time you are required to pay $306 dollars when you submit your petition to the court. This amount is periodically increased by the courts. For updated information review the website of the U.S. Courts at www.uscourts.gov. Look under "Bankruptcy" and then click on "Bankruptcy Resources."
What if you cannot pay the filing fee? Filers whose income is substantially below the poverty line may file a fee waiver. You can ask for a waiver by submitting an Application for Waiver of the Chapter 7 Filing Fee (Official Form B3B). More information about the poverty guidelines to qualify for a waiver can be found at the US Courts website.
Other Chapter 7 bankruptcy costs
Additional costs to file Chapter 7 bankruptcy include the costs to take a creditor counseling course, which must be completed six months before filing bankruptcy, and the personal financial management course, which must be completed prior to the bankruptcy discharge. Generally, credit counseling courses may cost anywhere from $20 and $50. Some debtors with very low income may qualify for a fee waiver for both courses.
Costs to hire a Chapter 7 bankruptcy lawyer
Chapter 7 bankruptcy lawyers will charge more for complex cases. For instance, if you have a no-asset case you will be charged less than someone who has a higher income and assets they need to protect.
Common fees for a Chapter 7 bankruptcy lawyer can range from $500 to $3,500, depending on the complexity of the case, the size of the firm, and the lawyer's experience. But consider if you have a simple Chapter 7 bankruptcy you may not need a lawyer or you may not need a lawyer with years of experience.
Do I have to pay my bankruptcy lawyer upfront?
Although Chapter 13 bankruptcy will allow debtors to include some or all of their attorney's fees in their bankruptcy repayment plan, if you file Chapter 7 bankruptcy you will need to pay your lawyer before they file your bankruptcy petition. Many debtors wonder how they will ever have enough money to pay a lawyer. Talk to your lawyer about options for payment.
What if you don't have the money to hire a Chapter 7 bankruptcy lawyer?
You have several options: save the money, file on your own or find a lawyer willing to work for free. Finding a lawyer who will work pro bono is very difficult. Some filers do have luck, however, filing on their own, especially if they have no assets to protect.
Related Pages
---
Latest Question
Contempt of court is a serious charge which must be answered.
Category: Civil Law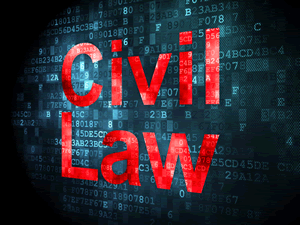 ---