What are the signs that I need a personal injury lawyer?
If you have been injured in a personal injury claim you may be considering whether or not you actually need a personal injury lawyer. Recently on our legal forum we had a user ask, "What are the signs I need to hire a personal injury lawyer?"
If you have been slightly injured, your injuries are not long-term, and the insurance adjuster has agreed to a fair settlement offer you may not need legal help. If, however, your injuries are severe, the insurance company will not settle in good faith, or the legal complexities of your injury claim are too difficult for you to manage on your own, it's time to talk to a lawyer.
Severe injuries and hiring a personal injury lawyer
If you win your personal injury claim the amount you will be compensated is based primarily on the cost of your injuries. For instance, if you have high medical bills, it will take a long time to recover, and your injuries are severe you will need more compensation to restore you to your previous condition. For this reason, it may be worth the extra expense to hire an injury lawyer to insure you are fully compensated for your severe injuries.
Permanent disability, medical malpractice and a personal injury lawyer
Due the complexity of personal injury laws it can be difficult to determine the full cost of your injuries. This can be especially true if you have suffered a permanent injury such as a loss of limb. You also may want to hire a personal injury lawyer if you have been injured due the negligence of a doctor. Medical malpractice can occur due to unprofessionalism, carelessness, or incompetent treatment. Medical malpractice cases, however, are complicated and most likely you will need legal help.
Insurance company will not pay
Finally, you may need an injury lawyer if the insurance company refuses to pay. Unfortunately, insurance adjusters do not work for you and generally are looking out for the best interest of their company. If you cannot get the help you need, talk to a lawyer.
When not to hire a lawyer
Many people would argue our society has become much too litigious, thereby raising the costs of goods and services for all consumers. In many cases this is true. Many claimants, even those who have been injured, will not need legal help.
For instance, if you are in a car accident and simply break an arm or suffer bumps and bruises, your injuries and possible compensation generally will not justify the legal costs of hiring an injury lawyer.
The legal process is slow. It could take months or years to resolve a personal injury case in court, and if you win your case you will be expected to pay the injury lawyer a percentage of your settlement. In some personal injury cases the contingency fees may be as high as 40%. For minor and short-term injuries it may be best to attempt to settle with your insurance company without hiring an injury lawyer.
Related Pages
---
Latest Question
Contempt of court is a serious charge which must be answered.
Category: Civil Law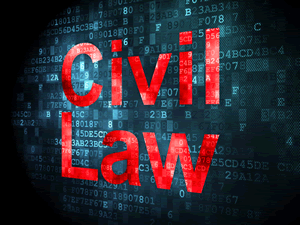 ---