What will happen in the marriage fraud interview?
If the United States immigration office suspects you and your spouse have entered into a fraudulent marriage they will require the two of you to attend a fraud interview. At this interview you will be asked a series of questions to determine the status of your marriage.
Fraud interviews may be conducted at any time in the application process, including when the petitioning spouse files the initial visa petition (Form I-129F for fiancés or Form I-130 for spouses) and after your USCIS or consular interview for a green card or visa. Additionally, if you are approved for a green card prior to your second wedding anniversary and receive a conditional residency, you may be required to attend a fraud interview at any time during these two years or after.
What does it mean if immigration requests a fraud interview?
Most applicants do not have to attend a fraud interview, so if immigration officials request you attend, this could mean they have reasons to believe your marriage is not valid or there were inconsistencies in your documentation.
The good news is you will have notification well ahead of the scheduled date for your fraud interview. You will have time to talk to an immigration lawyer, and they should attend the interview with you. Although the lawyer will not be able to control the interview process or object to questions asked, they can help prepare you for the interview in advance.
What will happen during the fraud interview?
During the fraud interview the USCIS officer will separate you and your spouse and ask each of you a series of matching questions. After the completion of the interview your answers are compared to your spouse's answers.
So how do you prepare for the fraud interview? Although the questions vary for each interview, it's important to be ready for all types of questions. It is a good idea for you and your spouse to review the details and facts of your relationship. This includes having matching house keys, reviewing details of your dating relationship, your wedding, holidays, shared activities, financial matters, your family, how much time you spend together, who pays the bills, and what side of the bed you sleep on.
The fraud interviewer is not your friend. They have a job to do and they will not try to make you feel comfortable during the interview. Their job is to find out if you and your spouse have committed an illegal act. They will push you and ask questions until you confess to marriage fraud or they have been convinced you and your spouse have a legitimate marriage.
What if you have a valid marriage but the fraud officer is attempting to get you sign a statement or withdraw your visa petition? If you have an honest marriage it's time to stop the interview and find an immigration lawyer who can help you.
Related Pages
Category: Immigration
---
Latest Question
Contempt of court is a serious charge which must be answered.
Category: Civil Law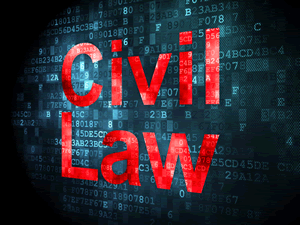 ---