Will a lawyer do a bankruptcy pro bono?
It's not unusual for individuals considering bankruptcy to lack sufficient income or resources to hire a bankruptcy lawyer. If they had enough money to hire a lawyer they might not need to declare bankruptcy. But is it possible to find a pro bono lawyer who is willing to volunteer their skill and expertise for the benefit of a low income client?
Finding a pro bono bankruptcy lawyer
There are some websites which suggest calling the state bar association in your state and asking for a list of lawyers who will do pro bono work or to contact bankruptcy lawyers you have heard advertise in your state and see if they will represent you for free. States such as Alabama have the Alabama State Bar Volunteer Lawyers Program which is one of four pro bono programs in Alabama which offers legal assistance to certain low income clients. Unfortunately, finding a pro bono lawyer to complete a bankruptcy for you in any state will be very difficult.
Assuming you are able to find a pro bono lawyer, however, they will expect you to provide information about your financial situation, including your tax returns and bank statements. This information should be copied and brought with you at your first bankruptcy meeting.
Options for legal help
So what if you cannot find a lawyer willing to do bankruptcy work pro bono? There are several other options. First, it is possible to hire a non-attorney professional to help you complete your bankruptcy forms. They will offer their services at an affordable price, and they will have experience completing the forms correctly. If you do hire a non-attorney professional, however, understand they will not be able to offer legal advice.
Another option if you are filing a simple, no-asset Chapter 7 bankruptcy is to complete the forms on your own. Several online sites offer programs to expedite and simplify the online bankruptcy process and a tutorial you can watch prior to filling out the forms. These programs are not free, however, and could cost as much as $200.
Will a bankruptcy lawyer allow me to pay him in installments?
Another option to hire a lawyer is to find out if your lawyer will allow you to pay them in installments. Most attorneys will accept a payment plan for Chapter 7 filings, although the final installment must be made before the lawyer will submit the bankruptcy petition.
For Chapter 13 bankruptcy the lawyer may be willing to include the cost for their services in the bankruptcy repayment plan and spread the payments out over 3 or 5 years. Talk to your lawyer about their options for payment.
While many lawyers in many legal fields will offer to perform a certain amount of work pro bono, many bankruptcy lawyers must charge for their services in order to make a profit. It may seem greedy, but how long has it been since you ask your electrician or plumber if they would work pro bono? No one wants to work for free.
Related Pages
---
Latest Question
Contempt of court is a serious charge which must be answered.
Category: Civil Law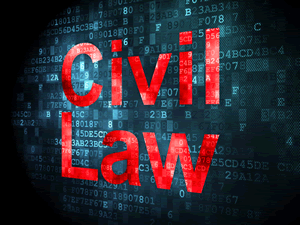 ---