Working part-time and applying for SSDI benefits?
Recently on our disability forum a user asked, "Over the last several years the number of hours I have been able to work each week has steadily declined. I applied for Social Security Disability Insurance (SSDI) benefits one month ago, but I am still working about 20 hours per week. I am wondering if working, even part-time, will hurt my SSDI disability application? Is it better to quit work before you apply? What if I get benefits for awhile but I want to return to work part-time?"
SSDI overview: How do I qualify for Benefits?
Social Security Disability Insurance (SSDI) benefits are provided to workers who have a severe mental or physical condition. To qualify for benefits, however, the condition must be expected to last for at least 12 continuous months, it does not allow them to work or perform what the SSA calls substantial gainful activity (SGA), and the worker must have worked and earned work credits to be "insured" for SSDI.
How will part-time work affect my SSDI application?
Now, you asked about working and applying for SSDI benefits. This is a great question. In a nutshell, workers who work too much and make too much money- what the SSA refers to as substantial gainful activity- are automatically denied SSDI benefits.
What is substantial gainful activity (SGA)?
So how much work can you do and still be considered disabled? In 2017, the SSA considers gainful SGA work as making $1,170 per month (or $1,950 for blind applicants). Claimants who apply but have a monthly income which is at or above this level will not be considered disabled.
Now, it's important to note that the SSA not only looks at the amount of money you earn each month but also the amount of time you work. For instance, it is possible for a worker to have no income but perform so much work that they are considered not disabled.
For example, consider a volunteer who works at the public library 32 hours per week. They may not have "gainful" income, but the SSA would conclude that if they can spend that much time volunteering that they have the residual functional ability to find comparable work for pay or profit.
The same could be said for a nurse who is working only twenty hours per week. In this case, a judge may conclude that if the nurse can do 20 hours of nursing work then they could perform 40 hours of work at a less strenuous job, maybe medical transcriptionist.
What if I go back to work part-time after I am approved for SSDI?
While some workers might have to stop working before they apply for Social Security Disability Insurance benefits, some workers do eventually decide to return to work. Before making this decision, however, it's important to contact the SSA and talk to them about trial work periods and how your income may jeopardize your SSDI benefits.
A trial work period allows a worker to "test" their ability to return to work for nine months, during which time they receive their disability benefits in full, regardless of how much they make. If they continue to work after their trial work period there is an extended period of eligibility for 36 more months.
Claimants who make too much money after their extended period of eligibility will lose their SSDI benefits.
How do I stop working and apply for benefits?
As mentioned above, it's generally better to completely stop working before applying for benefits. Claimants often ask, however, how this is possible, especially given that it can take months or years to be approved for benefits.
Honestly, there is no good answer. Some claimants can save enough money to tide them over until their approval, others rely on friends and family, and others simply struggle through, accumulating a large amount of debt.
Bottom Line:
Too much work or making too much money can jeopardize your SSDI application.
Related Pages
---
Latest Question
Unless exempt under state laws, you may have an additional garnishment but only to the maximum allowed under federal law.
Category: bankruptcy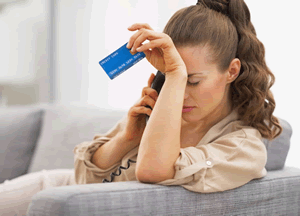 ---