How can I get represented in a personal injury case?
Finding a lawyer to represent you in a personal injury case should not be too hard if you have a good case. Unfortunately, because personal injury lawyers generally work on a contingency fee basis, which means they do not get paid unless you win your case, if they do not believe you have a good case they may choose not to represent you.
Where can I find a personal injury lawyer?
Assuming you have a good case, one of the best places to start your search to locate a lawyer can be talking to your friends and family. In some cases they may be able to recommend someone to help you. Next, you can search online for personal injury lawyers who live in your area. Call several of them and schedule an interview to discuss your case. Some lawyers may provide a free consultation while others may require a small consultation fee.
If you do decide to hire a lawyer make sure to get everything in writing, including their fees, how they will be paid, and what services are included.
What should I ask my personal injury lawyer?
Before hiring a personal injury lawyer you need to ask them several questions. First, determine how much they will charge. As mentioned above, personal injury lawyers generally work on a contingency fee basis, but the percentage they are paid can vary. For instance, lawyers may be paid between 25% and 40% of the total award.
Next, verify what out of pocket costs you may be required to pay. In some cases there are certain costs which can be deducted from your award if you win. Verify who will pay these costs if you do not win. You will also need to find out if your lawyer has the right experience to win your case. Talk to former clients if possible.
Make sure the lawyer does not have too many cases. Sometimes a lawyer has so many clients they may have to wait 12-18 months to file your suit. Ask the lawyer how many other cases he has pending and how much of his time he plans on devoting to your personal injury case.
Finally, make sure your lawyer is prepared to go to trial if necessary. If your lawyer is not ready to go to trial, you may fail to get the compensation you deserve.
Do I really need a lawyer?
Some claimants decide to handle their personal injury case on their own. While this is possible and many claimants do this, before you decide if this is the right strategy for you, you need to make sure you understand what you will need to do.
If you decide not to hire a lawyer simply to save money, it's likely that even after the lawyer's fees are deducted, you could end up with more money with a lawyer than without a lawyer because lawyers have the right skills to negotiate higher settlements.
Related Pages
---
Latest Question
Contempt of court is a serious charge which must be answered.
Category: Civil Law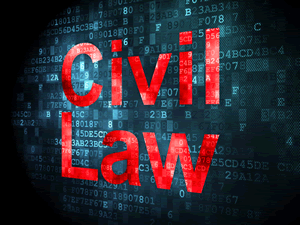 ---